WINDCLAN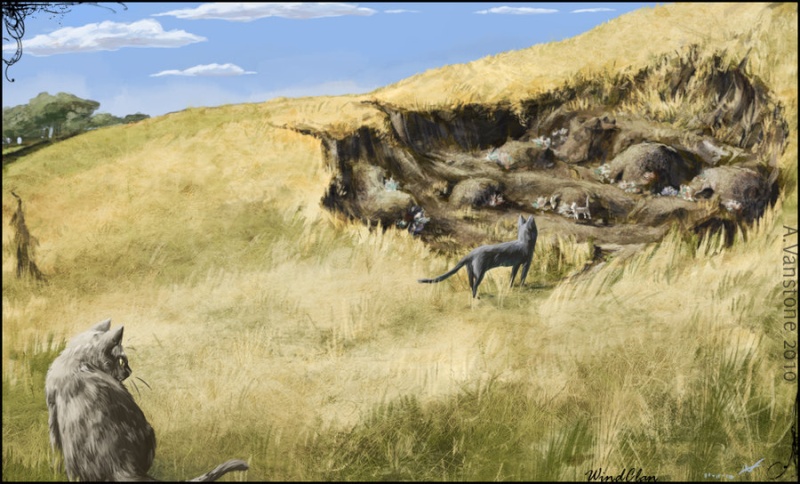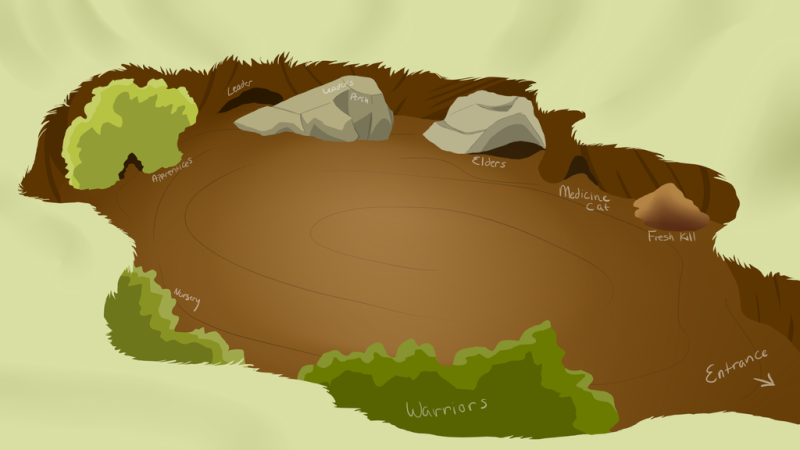 _______________
LEADER
Dapplestar – Black and Brown patched tom with white paws, belly and chest, golden eyes
---
DEPUTY
Firesong – ginger tom with amber eyes and a black patch on chest
---
MEDCINE CAT
Littleleaf –Medicine – Small dark gray tom with dark blue eyes
---
WARRIORS
Swiftstream – Silvery blue tom with blue eyes
Whisperwing – dark gray she-cat blue eyes
Ashpelt – light gray tabby she-cat with soft green eyes
Sandstripe –white she-cat with a sandy ginger stripe down back blue eyes
Hawkflight – dark tabby she-cat with amber eyes
Dustripe – light brown tabby tom with black paws and blue eyes
---
APPRENTICES
Lionpaw - pale ginger tom with amber eyes
Goldpaw– golden tom with green eyes
Robinpaw – brown tom with ginger chest and copper eyes
Skypaw –Brown and black tabby tom with large white patch along back, blue eyes
---
QUEENS
Honeycloud – cream colored she-cat with green eyes
Cloudkit – pure white fluffy she-cat with amber eyes
Jaykit – Blue gray tom with white chest and belly and gray eyes
Leoparddawn – lightbrown she cat with black spots and green eyes
---
ELDERS
Crowfeather
Nightcloud
RIVERCLAN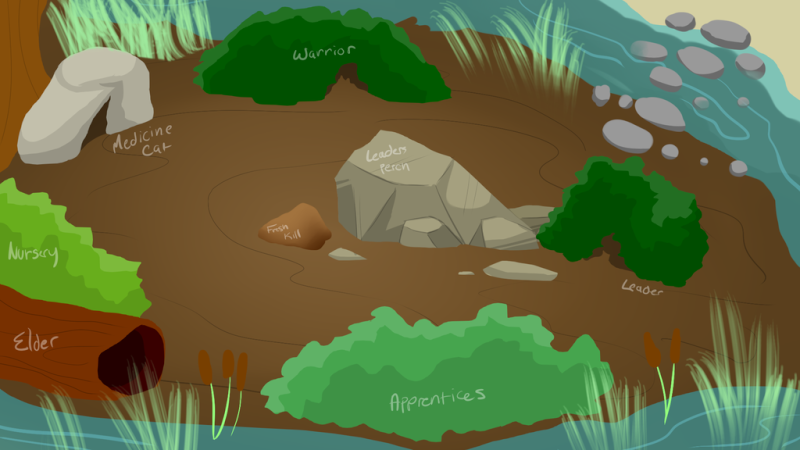 ___________
LEADER
Miststar – silver and white tabby she-cat with bright blue eyes
---
DEPUTY
Skysong – pale silver tabby she-cat with pale blue eyes
---
MEDICINE CAT
Tinysong –medicine – Small black and white tom with blazing blue eyes
---
WARRIORS
Waterfoot – White tom with blue gray paws and green eyes
Creeksplash – Soft brown she-cat with white paws and amber eyes
Fireripple – ginger tom with darker ginger stripes
Icewhisper – slender white tom with silver belly and chest
Frostpelt – pale silver tabby tom with black stripes and dark blue eyes
Dewflower – cream she-cat with green eyes and white paws
Mistystorm – dark gray she-cat with silver spots green eyes
Sandblaze – pale ginger she-cat with paws and tail of bright ginger
Darkclaw – Tabby tom with black paws and chest
---
APPRENTICES
Emberpaw - white tom with ginger patches hazel eyes
Tigerpaw – dark tabby tom with bright copper eyes
---
QUEENS
Whispersky – black she-cat with ice blue eyes
Applekit – ginger red tom with green eyes (orphaned
Silverwing – bright silver tabby she-cat
Otterkit –brown tom with cream belly and inner legs green eyes
Reedkit – gangly cream colored she-cat
---
ELDERS
Swoop
---
SHADOWCLAN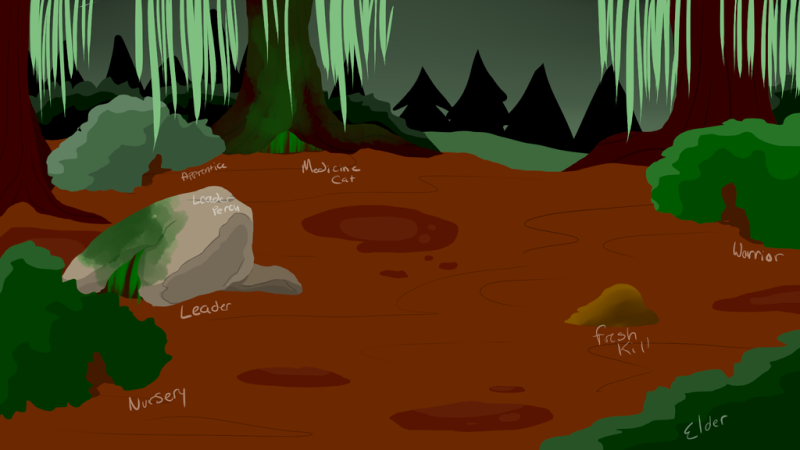 ________
LEADER
Eaglestar – brown tabby and white tom green eyes
---
DEPUTY
Wolfclaw – brown gray tom with white bell and chest with fluffy tail blue eyes
---
MEDICINE CAT
Blackstorm-medicine – large black tom with copper eyes
---
WARRIORS
Lizardgaze – gangly cream tom with a long tail and bright amber eyes
Thornheart – dark tabby with a few ginger patches
Patchfur – tortoishell she-cat with white muzzle and belly
Stonegaze – stone gray tom with fierce copper eyes
Flamefur – Bright ginger tom with amber eyes
Ferretleap –black tom with cream chest, belly and mask on face, blue eyes
Snakefang – tabby tom with black stripes and markings, amber eyes
Icewhisker – white she-cat
Twilightmist – blue-gray she-cat with ginger belly and patches on legs – golden eyes
---
APPRENTICES
---
QUEENS
Featherpelt – white and soft gray stripped she-cat
Ravenbreeze – Black she-cat with a silver stripe on back
Redbelly – black she-cat with ginger belly green eyes
Nightwhisper – black she-cat with a silver paw and ice blue eyes
Crowkit – Black tom with blue eyes
Pouncekit – Tortoishell She-cat with amber eyes
Oakkit – Dark brown tabby tom with darker brown paws and chest golden eyes
Ratclaw – dark brown almost black she-cat with pale cream tail and amber eyes
Viperkit – Brown white and cream tom with green eyes
---
ELDERS
---
THUNDERCLAN
________
LEADER
Graystar – soft gray tabby tom with dark gray stripe along back green eyes
---
DEPUTY
Hawkswoop – dark tabby tom with cream chest
---
MEDICINE CAT
Spottedpool-medicine – spotted brown, black and white she-cat with soft blue eyes
---
WARRIORS
Specklefur – tortishell she-cat with black ears golden eyes
Shadowpelt – solid black tom with a folded ear and hazel eyes
Ravenfeather – black she-cat with gray paws and belly green eyes
Leafheart – tortishell with what patches green eyes
Snowheart – all white tom with hazel eyes
Frostwind – silver Tom with amber eyes
Roseblossom – soft rose and cream colored she-cat with green eyes
---
APPRENTICES
Foxpaw – ginger she-cat with cream belly chest and paws copper eyes
Mudpaw – brown tom with black paws and stripe down back amber eyes
---
QUEENS
Blueshade – blue gray she-cat with bright blue eyes
Sunkit – black she-cat with bright stripe along back and amber eyes
Shrewkit – gray tom with long nose and blue eyes
Vinekit – soft gray tom with long tail blue eyes
Flamekit – ginger tom with soft gray patches blue eyes
---
ELDERS
---
Last edited by Demonhunter on Mon Nov 17, 2014 8:35 pm; edited 1 time in total
Dapplestar stretched as he slipped out of his den. It was strange for him to be leaving the leader's den. He had just gone to Highstone and gotten his nine lives the night before, not returning till dawn. He had then turned into his new den and slept till well after sunhigh. It was greenleaf so the sun was warm on his pelt. He looked around at the camp, The sunhigh patrol hadn't returned yet and there was a hunting patrols out. Sent out by the new deputy Firesong. Their last leader, Leafstar, had lost his last life from a dog attack and Dapplestar found himself, having only been deputy a moon, replacing him. They had also lost Robinsong, young Robinpaw's mother. The apprentice was at the fresh kill pile, his mentor Sandstripe trying to get him to ear something. Robinpaw had seen the entire attack and how Leafstar had given his life to try and save Robinsong. Dapplestar continued to look around the clearing. Over by the nursery Honeycloud was laying in the sun while Cloudkit chased a pebble around, pouncing on it, batting it away and pouncing again. Jaykit wondered away Honeycloud, heading to the apprentice den, thinking his mother would see him leave but Honeycloud lifted her head and called "Jaykit, get back here, I can see with my eyes closed at well as you can." Jaykit sighed, whether because of being called back or being reminded of his condition Dapplestar wasn't sure. Jaykit bounced back over to his mother and whined "I wanna go explore. Cloudkit gets to explore." Honeycloud just purred and said "you will later." Littleaf stepped out of his den carrying a few herbs and he headed into the nursery, reappearing a few heartbeats later and wondering over to the freshkill pile.
One of the hunting patrols came through the entrance, Hawkflight, his apprentice Lionpaw, Dustripe, his apprentice Goldpaw, and Swiftstream all came through, the two apprentices carrying a large rabbit while both Swiftstream and Hawkflight carried one each. They went and dropped them at the freshkill pile. Leopard pulled herself out of the nursery, her belly swollen with kits, ready to be born any day. Swiftstream saw his mate and went bounding over to her. Dapplestar was proud to see his son and his mate. He wished Mistystorm could see them now. But he knew she didn't want to see them, and he didn't want the secret getting out that Swiftstream was half-clan, especially not so soon after becoming clan leader. Dapplestar twitched his ears toward the entrance as he heard hard pawsteps running in. Ashpelt was in the lead, Whisperwing and sandstripe right behind while Robinpaw and Skypaw brought up the rear. Dapplstar climbed onto the Leader's rock and looked down at the patrol "Dapplestar!"Ashpelt started "We've scented Thunderclan on out borders, and spotted rabbit blood on the ground!"


Miststar hopped across the rock leading into camp. She'd just been out on border patrol and saw everything was quiet still, nothing unusual, twolegs were still playing in the lake, scaring all the fish but they still weren't coming close to the camp for Miststar to be worried. She looked around the camp and saw Creekspalsh, Dewflower, sandblaze and Tigerpaw returning from hunting, dropping six fish on the fresh-kill pile. Applekit was outside the nursery getting training tips from Emberpaw, despite not being an apprentice yet. The lost of his parents was driving him to be the best warrior anyone had ever seen and he was already making great progress. Otterkit and Reedkit went over and congratulated Tigerpaw on his fishing. Otterkit and Reedkit were almost six moons old which meant they would be apprentices soon. Skysong padded over to Miststar "Who would you like to go to the gathering tonight?" She asked. Miststar looked around and said, Fireripple, SAndblaze, Dewflower and the apprentices, the rest is up to you but I want a strong defense left here, with Whispersky being so close to kitting I don't want anything happening to her. and you know how the Twolegs get in Greenleaf." Skysong bowed her head and ran off. Tinysong came over to the leader and asked "Miststar, may I have a moment?" Miststar bowed her head "Of course Tinysong, what is it?" Tinysong looked at his leader and asked "When you go to give Otterkit and Reedkit their apprentice names would you be willing to spare Reedkit to be my apprentice? she has such an interest and skill for herbs." Miststar purred softly. "I'm glad to hear you've finally found a cat you wish to train, of course Tinysong, I'll be naming them here in a short while." Tinysong dipped his head "Thank you Miststar." he then padded off. Miststar jumped up onto her perch and looked around at her clan, so peaceful.

Eaglestar Sent Ferretleap, Snakefang, Thornheart and Patchfur on border patrol while Stonegaze, Flamefur, Icewhisker and Twilightmist went to hunt. It was weird giving out patrols again, usually he left that to his deputy Wolfclaw but he was currently in the nursery with his mate Nightwhisper while she kitted. Blackstorm was with them, growling at her to stop her whining which Wolfclaw snapped at him about being rude. It wasn't long before Blackstorm padded off to his den, looking as grumpy as usual. This is why warriors shouldn't become medicine cats Eaglestar thought to himself. Redbelly, Eaglstar's own mate, also expecting kits, came out of the nursery and padded over to him "Three, two toms and a she-kit." Eaglestar he was proud of his deputy and Nightwhisper. He leaned over and licked Redbelly between the ear affectionately. "I can't wait for ours to be born." REdbelly purred "Me neither." she then jokingly added "The weight is killing me." Eaglestar let out a mrrow of laughter and nuzzled her gently. "The nursery is going to be full fast. Three kits from Nightwhisper, Ratclaw having Viperkit, Featherpelt, RAvenbreeze and you expecting kits very soon. We should probably expand for a while." Redbelly nodded, "Ravenbreeze will have atleast three, judging by the size of her belly. And who knows how many Featherpelt and I will have." Eaglestar nodded. "Exactly. I'll get Lizardgaze to start gathering what they need and when Flamefur and Stonegaze get back I'll have the three of them start making the nursery bigger."

Graystar laid ontop of Highrock as he watched Hawkswoop Send Shadowpelt, Leafheart and Specklefur hunting. Hawkswoop, his apprentice Mudpaw, Ravenfeather and his apprentice Foxpaw set out to go on border patrol and some battle training. Roseblossom was playing with Sunkit, Shrewkit, Vinekit and Flamekit with Blueshade. Blueshade was staying in the nursery with the four kits while she awaited her own. All four of the kits had been orphaned not long after their births, thankfully at the time Leafheart, Foxpaw and Mudpaw's mother, had been able to feed them and care for them until they were old enough to eat solid food. Now Roseblossom and Blueshade spent most of their time entertaining and keeping track of the mischievous kits while they waited the last quarter-moon till their apprentice ceremony. Roseblossom would make a great mother one day, always so sweet and playful. He knew his own daughter would be a great mother too, Shadowpelt seemed to skittish to be a great father though, but he was giving his daughter's mate a chance to prove himself. He watched as Blueshade's sister, Spottedpool came over and check her sister's progress and then she started sharing tongues with Blueshade. Graystar jumped down from the rock and headed out of the camp and soon spotted a mouse scuttling along the ground. He got down into the hunter's crouch and crept forward till he was close enough. he sprange and landing on it, swiftly killing it with a bit to the neck. He purred and covered dirt over it to hide it till he could come back for it. He then headed for the lake
Dapplestar nodded his head "Ashepelt, show me where." He said and jumped down from the rock and followed her as she trotted back out of the camp heading toward the Thunderclan border. It wasn't long before they made it to the border and there was a pool of blood with a strong rabbit scent, the trail leading toward the Thunderclan border. From what Dapplestar could tell the cat who had stolen the rabbit was the young apprentice Mudpaw. Dapplestar wasn't to worried about an apprentice stealing prey but it might give warriors an idea that Windclan wasn't protecting their territory. "Let's go speak to Graystar." Ashpelt shifted "Do we have to?" Dapplestar turned on her "Do you want them to continue to trespass." She shrank down and mewed "N-no Dapplestar." Dapplestar turned back toward thunderclan and headed toward the camp. He twitched his ears as they hoped over the stepping stones to cross the stream between the territories. He parted his jaws, waiting to see if he scented Thunderclan cats but he didn't, their border markers were even faint. He headed for the came, not bothering to make sure Ashpelt was behind him. She followed her leader but remained low to the ground. Dapplestar looked up as he saw Ravenfeather, his apprentice Foxpaw and Thunderclan deputy Firesong jump out of the bushes nearby. Firesong approached and asked "What brings you here Dapplepelt?" Dapplestar looked at Firesong and said "It's Dapplestar now, and I wish to speak to Graystar." Firesong dipped his head and turned and lead the patrol toward the camp, HAwkflight and Lionpaw racing ahead to warn Graystar.
Graystar soon returned to the camp with three mice. He dropped them on the fresh-kill pile just as Ravenfeather and Foxpaw came into the camp. "Graystar! Dapplestar is here to speak to you." Graystar looked up puzzled "Dapplestar? Alright." He waved his tail to dismiss the two and they trotted off in separate directions. Firesong brought Dapplestar and Ashpelt over to him and he bowed his head "Dapplestar, I'm sorry to hear that Leafstar has passed. He was a great leader." Dapplestar bowed his head "Thank you. He was. May he hunt well in Starclan. But I didn't come here to announce my receiving of my nine lives. We spotted a pool of blood and found the scent of Rabbit and Thunderclan a few fox-lengths from the border." Graystar looked at him with now narrowed eyes. "I promise Dapplestar, I did not allow this to happen knowingly." Dapplestar didn't seem to hear "I just hope this does not become an issue. If you continue to allow this happen we will have to take action." He said looking at the Thudnerclan leader coldly. Graystar's eyes started to blaze with anger "I wish for you to leave now Dapplestar and know that a useless fight will not be needed."
Dapplestar bowed his head and turned to leave. Graystar waved his tail and Snowheart, Ravenfeather and Shadowpelt arranged themselves around the two Windclan cats to escort them back to the border. Snowheart walked on Ashpelt's right side as she walked beside Dapplestar. She glanced over to the white warrior but soon looked away. DApplestar had Shadowpelt on his left and Ravenfeather walked behind them. They were soon back at the border of Windclan and Thunderclan and Ashpelt and Dapplestar continued without stopping, hoping over the stepping stones again.
Ravenfeather and Shadowpelt turned as soon as the windclan cats crossed the stream and they headed out to hunt while Snowheart watched after the two Windclan cats until they were out of sight and Shadowpelt, his brother came back calling for him to hurry up. Snowheart cast one more look toward the moor before racing after his brother.
"Let all cats old enough to fish join to hear my words." Miststar called over her clan. She watched as they all gathered under the rock. "a couple of our apprentices have reach Six moons of age. Otterkit, Reedkit will you please join me up here?" Both the kits scrambled up to the rock and bounced slightly as they looked up to their leader. Miststar let out a soft mrrw of laughter at their excitement "Otterkit, from this moment on, until you have earned your warrior name, you will be known as Otterpaw. Your mentor shall be Skysong, He has taught Fireripple and Darkclaw well and I know he will teach you all the responsibilities and ways of the warrior." Otterpaw hoped over to Skysong and Skysong rested his nose on Otterpaw's head and Otterpaw licked his shoulder, in the normal ceremony way. Miststar now turned to Reedkit. Tinysong came up to the rock and said "I am ready for an apprentice." He turned to Reedkit "Reedkit, if you choose to, I would appreciate having a young, thoughtful and intelligent cat such as yourself as my apprentice." Reedkit's eyes went wide with surprise and excitement and Reedkit nodded. Miststar nodded and said "Then, from this time on until your mentor Tinysong gives you your full medicine cat name you will be known as Reedpaw, medicine cat apprentice." Reedpaw bounced over to Tinysong and purred happily. The entire clan started cheering "Reedpaw! Otterpaw! Reedpaw! Otterpaw!" once the cheering died Miststar looked out to them all and said "All cats who have been choosen for the Gathering, we're leaving now." She called and hopped down from the rock.



Dapplestar smelled all the other clans as he walked across the tree bridge to get to the island that thegathering was held on. The full moon shone overhead, not a cloud in the sky. Dapplestar toke a deep breath as he made his way into the clearing. His first gathering as clan leader this was going to be interesting. Firesong, Litteleaf, Swiftstream, Skypaw, Ashpelt, Sandstripe, and Robinpaw followed him closely. Skypaw and Robinpaw were bouncing with excitement at it being their first gathering. Dapplestar jumped up onto the great oak and Firesong joined the other deputy's at the roots of the tree.
Above Dapplestar in the branches of the tree were the other clan leaders, Miststar was on the branch just above him, Eaglestar's branch was about the same level as Msitstars and above them was Graystar.
From Riverclan Skysong and Tinysong of course were there, being deputy and medicine cat. There was a small, almost kit sized She-cat with Tinysong. Among the Riverclan cats who were mingling about with the other clans, he saw Otterpaw, Sandblaze, Tigerpaw, Frostpelt, Emberpaw, Fireripple and Waterfoot.
Otterpaw, Tigerpaw, and Emberpaw were with other apprentices from all the other clans, chatting away excitedly. Sandblaze was with Frostwind from Thunderclan, they always seemed to get along really well. He wasn't sure why, he just hoped, for both the cats sakes they weren't going to break the warrior code like he did. Frostpelt was with a couple of other warriors from various clans. He nodded and indicated Reedpaw over by Tinysong looking proud of his daughter. Fireripple was in the back of the crowd, tail tip twitching, as if he didn't really want to be there. Waterfoot was sitting beside Thornheart from Shadowclan, talking excitedly.
Eaglestar had brought Thornheart, Twilightmist, Flamefur,Stonegaze, Snakefang and Patchfur as well as, like usual, Wolfclaw and Blackstorm.
Blackstorm sat with the other medicine cats but he held himself as if he were still a warrior. Dapplestar never liked Blackstorm, no warrior should ever become a medicine cat, especially not a blood thirsty cat like Blackstorm. Wolfclaw purred happily as he told the other deputies about his three kits being born, which Dapplestar could hear about from his low branch on the tree above the deputies.  Twilightmist padded up to the deputies to talk with them, she was good friends with almost all the deputies. He knew that if anything happened to Wolfclaw Twilightmist would most likely be the next Shadowclan deputy. She knew everything about it, she was level headed and thought things through, unlike half of shadowclan. She sat beside Firesong and let out a mrrow of laughter as they joked about her pushing her way into the rank of deputy already.  Flamefur and Stonegaze was just mingling with a bunch of other cats. Snakefang tucked his paws underneath him as he sat down in the middle of the crowd of cats. PAtchfur was talking with Swiftstream and Roseblossom while Frostwind sat beside them but remained talking with Sandblaze.
Thunderclan brought Roseblossom, Frostwind, Snowheart, Ravenfeather, Foxpaw and Mudpaw, Mudpaw's deputy mentor Hawkswoop and Spottedpool.
Snowheart was sitting with Ashpelt, their heads close as they talked quietly to each other. Ravenfeather was talking with Stonegaze at the moment but they soon wondered away from each other. Foxpaw was with the large crowd of apprentices that were sitting together still, but Mudpaw was as close to his mentor as he was allowed to be. Spottedpool seemed to be congratulating Tinysong on accepting an apprentice.

Eaglestar stood and yowled loud enough to be heard over the chattering of all the cats. "Let's begin!" Soon all the chattering died away and all the cats looked toward the leaders. Eaglestar moved forward on his branch and spoke first. "Shadowclan is well, the hunting is good now that the warmer weather is here. WE have three brand new kits as of sunhigh today, Wolfclaw's own kits, Crowkit, Pouncekit and Oakkit!" He waited as all the clans cheered the new kits' names. Once everyone is silent he once again spoke "and we have three more queens expecting kits soon." He then stepped back and sat down.
Graystar stood next. "Hunting is well in Thunderclan, there are no current signs of twolegs at the clearing they normally set their pelt dens up" He sat back and Miststar stood now "Riverclan has two new apprentices "Otterpaw! And our new medicine cat apprentice Reedpaw" The clans once again cheered for the young apprentices  and they both looked shy though Reedpaw looked proud still. Miststar continued "Fishing is going well, the rivers has become a little more shallow but it hasn't stopped the fish from coming."
Once Miststar sat down Dapplestar stood up and stepped forward "Windclan is sad to announce that yesterday a dog attacked one of our queens, Robingwing, and Leafstar tried to save her but the attempt did not succeed and instead we have lost both of them. May they hunt well in Starclan and always watch over us. Robinwing was a great mother and an amazing hunter, she will be missed dearly. And Leafstar was the best leader any clan could ask for. I hope everyone accepts me as the new Windclan leader." Everyone cheered his new name and he soaked it up. This was who he was now, he was Windclan leader. He had the responsibility of a clan leader but he also had the power to help his clan like always wanted. "Also, I was given a sign and I chose Firesong as Windclan's new deputy, I know he will serve me and all of Windclan well." Everyone cheered Firesongs name. He got welcomes from all three of the other leaders and then all three jumped down from the Great Oak. They all let cats mingle for a while longer before calling for everyone to go home. There were a few reluctant goodbyes and then they all headed their own ways.
Similar topics
---
Permissions in this forum:
You
cannot
reply to topics in this forum