Caleb Michaelis was the bad guy. At a young age he was perfectly normal boy, born to one of the last native american couple left. But at Ten his parents believed he had been corrupted by the devil and abandoned him in the woods. they told them they still loved him but wanted him to find a place to be safe. At the age of ten he was on his own to survive in the wild. He agreed to help lucifer in exchange for being immortal and having the power to change forms into anyone or anything. But it came with a price. he had to do whatever Lucifer wanted, so by the time he was thirteen was going across country commiting crimes and by fifteen he was set to make fear, the worst fear and agony of all. He was forced to rape girls and eventually boys too. he hated his life. he hated it so much and hoped to be caught and killed one day. He was sixteen when he was with Alexander Gray. the first person he ever truly love but he still had to work for lucifer and almost hurt alec, but didn't. at nineteen he had tried a second time to get Karrie. Kyler, karrie's boyfriend, hunted him down and almost killed him but instead saved his life. Because of Kyler and Deuce he met the girl of his dreams and eventually fell in love with her. Meeting Pilot turned him completely around. He stopped hurting people and fought Lucifer. After about a year they had their son, Ace and now this is his story of Ace's life with Rayne, his wife, and their kids. At this point in time Jace, the oldest just turned 19, Ashton, the second, is 17. the twins Ace and Nero are 15, Tristan is 14 and the youngest, Ash, is 10 years old.
Rayne the mother 
Ace the father
Jace has been super smart his whole life, but instead of becoming a scientist or using his smarts that way he became a famous author by the time he was thirteen, he was now moving out of his parents house, his younger brother, Ashton coming with him, to tired of the cramped, crazy house. 
Ashton was geeky and loved reading and has been best friends with a boy named Zander since they were in kindergarten together. He loved his family but the house they were in was to small and he was ready to move out already so he's moving out with his oldest brother. But what lies ahead for little Ashton?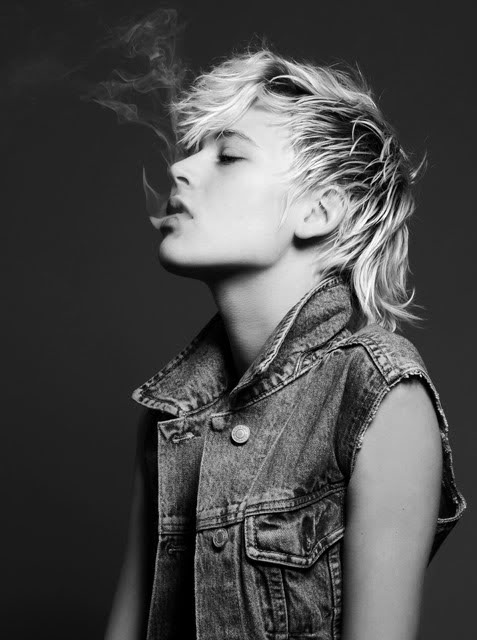 Ace and Nero are inseparable. They still shared a bed and still did pretty much everything together. Ace was born a girl, Nero, a boy but no one outside the family knew Ace was bilogically a girl and because she's always been identified as a boy and always dresses like a boy she's never realized that she isn't really a she but was a he. Nero knew what his brother didn't  but he never told him because he was happy how he was living his life. Both the boys are in a band together, starting to get big.
Tristan was the oddball out of the family in the one area that he was free to be himself and was the only one so far to not get into 'emo' punk clothes and hardcore music. He liked classic rock and roll and he looked like an average teenager. Adorable with soft eyes and a warm heart. so inside he wasn't average cause he was as sweet as his uncle james who was from the victorian era, so he was super sweet and a compelte gentleman. He too was in a band but it wasn't as hardcore or electronic as Nero and Ace's band.
then there was Ash who was still a stereotypical little girl for now, though she did like rock music a lot more then most little girls her age and she picked out black clothes more then her classmates. she loved computers too, always playing with them, always tinkering inside of one when her parents weren't looking. 
Zander, Ashton's best friend. He's super rich and has been pretty much a slacker his whole life. Has been best friends with Ashton since they were about five.
Now that I've gone into major detail of everyone, how shall I begin...?
Last edited by Demonhunter on Sat Apr 26, 2014 12:09 pm; edited 1 time in total
Jace threw the last of his books into a box and folded the flaps to shut it. He looked around at the bedroom he had had since he turned two. He's watched as this bedroom evolved from a baby's room, to a toddler's toy filled room that would never stay clean, to the room of a pre-teen, maturing slightly from just toys to some video games. He remembered the day he was fourteen and had looked around this room and decided he was no longer a kid so he gave Ace, Nero and Tristan ever single toy he had. He then covered the room in band posters, book cases and video games. He toke a deep breath. He was glad to know he was going to be on his own, well mostly on his own, but it was going to be weird not beign in this huge room with his siblings just down the hall. He'd miss the loud shouting and the smell of breakfast every weekday morning. He'd miss seeing his mother and father being all lovey dovey when they thought non of the kids were up yet. He'd miss everything around this place but it was going to be nice living in his own place with just Ashton. A nice sized cozy two bedroom. He smiled and put the box on the stack and headed down the hall to talk to Ashton.

Ashton toke a deep breath and looked around his bedroom. He loved this place a lot, he loved his family and this house, his bedroom everything. so he'd miss it all a lot but he couldn't wait for the peace and quiet of his and Jace's place together. With Jace being an Author and a reader too Jace appreciated quite, there always had to be music playing but it needed to be soft, almost natural music and they could both enjoy the quiet. He loved his family but sometimes it got so hectic and overwhelming that he couldn't wait to be out of here so he could just visit. And after they were out he could have Zander spend the night all the time again. His parents weren't a fan of people staying the night because of how hectic it got. Ashton never saw the big deal so he'd convinced them to let Zander stay every so often. Him and Ashton had been friends since they were five and they never were separated long a day at most. 

Ace opened his eyes slowly, blinking a little against the sun light that came into the room. He smiled when he felt his brother's arms around him. they were fifteen but they still slept in the same bed because neither of them liked the idea of being apart. Nero had his head resting on Ace's, arms wrapped around him protectively. Ace smiled happily as he looked at Nero and that soft smile he had giving away he was having a good dream. Ace chuckled and kissed his brother's cheek before yawning cutely. Ace looked over when Nero's eyes started to flutter open. Nero sighed softly, dreamily as he woke up, running his fingers through his hair. Ace smirked "good morning sleeping beauty." Nero made a hum that sounded like 'what?' and smiled at his brother "Hi Ace." he said tiredly. Sometimes, especially in the morning Ace wished Nero and him weren't related. Ace knew his brother was attractive, and he had to admit his brother had a sexy morning voice. If they weren't related Ace would be all over Nero every morning. Ace chuckled to himself and Nero raised an eyebrow and Ace shook his head "Sleep well Nero?" Nero nodded "Yea I did actually this time." Ace nodded and said "good. So it's Jace and Ashton's moving day." Nero sighed "Don't remind me."

Tristan woke up and found himself wrapped up around his pillow as if it were a person. He looked around confused. He was grateful for the black out curtains he had. His walls were covered in movie posters and a couple band posters. He, unlike the eldest two, wasn't into books that much so he had a few books on his movie shelf  but other then that he had a ton of movies and video games. He personally had one of each of the newer systems, Wii, Ps3, 360, ps4, wiiU and xbox one all set up on a large entertainment center. He yawned and stretched tall before sitting up and going to the bathroom. He did his business before turning the shower on and stripping off his pajamas. He stepped in the shower and shivered, moaning gently at the relief the warm water brought his muscles. He smirked, remembering the wonderful dream he'd been having before he woke up. Tristan bit his lip "Stupid raging teenage hormones." he mumbled. He used to be very secure in who he was but then he found that he was attracted to this boy in his homeroom class and now he was confused about his sexuality and lately he'd been dreaming about sex with this boy, day and night and it seemed to be one of the only things to get him turned on. the past year, year and a half tristan had found the wonders of self sex and he couldn't help but do it whenever he started day dreaming. He'd even sat while watching movies with the family and done it. tristan was normally a shy, softspoken boy who didn't do anything strange or outrageous but now he couldn't say that cause ever since his hormones started flaring he'd wanted to do a lot of sexual things that he never did before. He moaned as he wrapped his hand around himself and leaned his head back, closing his eyes.
Jace opened the door to his younger brother's room and that caused Ashton to jumped and frantically close the box he'd been packing, his face lighting up the brightest of reds. He looked up to Jace, wide eyed and terrified. Jace raised an eyebrow "What are you hiding?" Ashton shook his head "N-nothing, who s-said I was h-hiding a-anything?" he stammered nervously. Jace gave him this look that could only say 'Really? Trying to play dumb?' "I'm not a complete moron Ash." Ashton shook his head "I know you aren't." he said as he scooted back, keeping one hand on the box as he desperately tried to reach the tape. Jace went over and kicked it within reach of him. Ash looked confused but grabbed it and taped up the box.... a lot. Jace looked at him and came over, kneeling down beside him "You know Ash you can always tell me anything right?" Ashton nodded "I know I can... but I can't." he shook his head and picked up the box, putting it with the other boxes. "Ready to start loading up the truck?" Jace watched him before nodding "Yea." He got up before going to open up the small uhaul truck they had rented.

Once Ace and Nero were up and moving, having showered and dressed they headed downstairs, laughing. They jumped off the stairs about five up so there was a nice thunk throughout the house. They both ran over to the kitchen where they found their father holding their mother from behind, arms wrapped around her waist as she fixed bacon,eggs and hashbrowns for breakfast for everyone. Ace found it strange that he was the only child name after anyone in the family and it happened to be their father though everyone thought Jace was named after him too, but since Jace was just his nickname, he wasn't. "Hi mom, hi dad." Ace said happily, cheerfully. Their parent both turned and grinned "Hi Ace, hi Nero." their father laid a plate in front of both of them as they climb up onto the bar stools.
"Jace! Ashton! You both need to come eat breakfast before you start working." Rayne called to them once both of them came downstairs with boxes from Ashton's room. Both of them groaned loudly but set the boxes on the coffee table before coming over and sitting by the twins at the breakfast bar. Rayne looked at them "It's your last breakfast in this house for a while you can at least eat it." she told them, smiling softly as she laid the plates in front of them. As soon as Jace saw the bacon he started eating quickly. Ashton on the other hand ate slowly, even for him. He was still scared after the incident in his room a few minutes ago. He shifted and ate slowly, drinking his apple juice slowly, sipping it. Their father came over and asked "You alright Ash?" Ashton looked up "Yea, I'm fine, just a little nervous about us leaving the nest is all." his father smiled and ruffled his hair "You'll be fine buddy, we're just a few blocks down the street and we'll be here when ever you need us." Ashton nodded and got up, going around the island and hugging him "thanks daddy." he mumbled. He looked at their mother and smiled, going over and hugging her too. Jace smirked and watched his brother, smiling gently. "Come on, finish eating so we can get to working." Ash looked at him and nodded, going and eating his food a bit faster now.
About five minutes later they were up and getting the beds and couch, desks, dressers and boxes into the truck. It toke them, Ace and Nero about an hour to get it all done. Once Jace locked up the truck ash asked "I don't want you unloading it without me but is it okay if I go see Zander for a bit?" Jace nodded "Yea of course buddy. Gotta give him our new adress right?" he smiled and nodded "Just don't be to long alright? An hour, tops." Ash grinned and nodded. He ran over and got in his mustang convertable. He put the hood down and rolled the windows and started blaring "Call Me Master" At top volume before pulling out of the driveway and heading to Zander's house, grinning hugely
"Zander!!" Ashton Squealed as he ran up the steppes of Zander huge house and tackle hugged him, almost causing him to hit the ground but instead he just stumbled "Well Hi Ashton." he said cheerfully, hugging him close. Ashton grinned at him as he pulled back a little but Zander didn't let him go. He bit his lip and said "Uh Zander." ZAnder blushed and let go "Sorry." he mumbled. Ashton looked at him confused. Zander quickly said "SO um, I'm gonna be able to hang out more after today right?" Ashton grinned and nodded "all the time, whenever you want to and we can stay up late watching movies and stuff." he said happily. Zander chuckled and nodded "That sounds like fun. So howd the packing go?" he asked as they made their way upstairs to Zander's bedroom. Ashton bit his lip "uh... it went good but... Jace almost saw my stuff...."  Zander looked at him "Oh... but he didnt?" Ashton shook his head "No... he asked about it but I got away without telling him. Zander looked at him "Do you really think he'd be upset about it?" Ashton shrugged "I'm not Sure Z but I don't want to find out." Zander sat on the floor  and Ashton sat in his desk chair. Zander looked at him "You know I'm always here for you." Ashton nodded "I know Man you always have been." Zander smiled and toke Ash's hand, playing with his fingers. Zander suddenly pulled Ash down and kissed him softly. Ashton went wide eyed but soon hummed as he melted into the kiss, kissing him back gently. They were like that, kissing softly, for a couple of minutes before they pulled back and ashton asked "How long have you been waiting to do that?" Zander bit his lip "three years, but I wasn't sure how you'd react but I finally just.... I had to." Ashton purred and said "I've wanted to do that for a very long time." he purred and kissed him again lovingly. Zander wrapped his arms around him and held him close happily.
Zander started to lift Ashton's shirt and Ashton flinched and toke Zander's wrist "Zander, baby. I would love to make love with you but are you sure you want this? you know my lifestyle, you know the crap i've gotten myself into, can you handle that? Could you handle being with me or sharing me?" Zander bit his lip and nodded "I will come with you, I'll try it for you." Ashton nodded and grinned happily and crashed his lips back onto Zander's, humming softly. Zander stripped Ashton's shirt off and kissed his neck and down the smaller boy's chest. Ashton threw his head back, body arching into him, moaning softly. Ashton started rolling his hips, rubbing his hard on against Zander's causing Zander to moan loudly. Zander moaned "Fuck." loudly causing ashton to smirk. Ashton yanked Zander's shirt off and started to lay him back but Zander stopped him by taking his hands "stand up love." Ashton, being the good boy he was obeyed without hesitation. Zander got up and picked him up, laying Ashton down on the bed. Zander pulled Ashton's pants and boxers off at once. Ashton purred and opened his legs. Zander ran his eyes up and down ashton's body, ashton open willingness to give himself up causing his dick to quiver and more precum to leak out. He pulled his own pants and boxers down and Ashton moaned at the sight of Zander large, eager dick. Zander hearing his little boy's voice moaning for him, moaning because of him caused him to almost lose it already. He went to crawl over his little one and he soon shoved Zander over and then moved down and toke Zander's member into his hand, squeezing it gently in his hand as he used Zander's precum to slide his hand over Zander's perfect dick. Zander moaned and shifted when he felt his little one's hand around him. He cursed and practically came the moment he felt Ashton lean down and take his quivering member into the pretty pink lips of his. Ashton licked his tip before taking all of him into his mouth and sucking, hollowing out his cheeks as he bobbed up and down. Zander squirmed and moaned loudly "Oh god, Ashton." he moaned pulling his hair. Ashton smirked and pulled off of him. Zander almost isntantly kissed him deeply and rolled them over, grinding their hard ons against each other causing Ashton to moan loudly "Fuck, Z-zander." he panted heavily. Zander reached over to his drawer of private stuff and pulled out a bottle of lube he covered his fingers and slipped one into the crack of Ashton's pretty ass. Ashton whimpered, shifting, wanting to feel Zander inside of him. Zander slipped the finger in and moaned softly, Ashton moaned, headgoing back, cursing. Ashton started to move back onto Zander's finger whenever zander started to pull it back. Watching his boy fuck his hand made him moan, more precum shooting out of his throbbing, needing dick. ashton moaned "Oh god, Zander please, more." zander added another finger, scissoring his hole,getting him ready for more. Ashton continued to move up and down on zanders fingers moaning loudly. when zander watched his fingers disappear into ash's little pink  hole that did him in. he pulled them out and covered his member in lube before slamming into ashtons hole with  no other warning. this caused ashton to moan loudly, practically screaming. Zander almost came right then. he moved ashtons legs and he started to slam into him, harder and faster with every thrst, with every gorgeous lustful moan from his baby. ashton started to make the pleasure more intense  by moving ack into him as zander thrusted into him. this caused ashton to soon com, screaming his name at the top of his lungs. zander screamed loudly as he came inside his baby shooting line after line of cream into the small ass. every shot of cum caused ashton to scream again and shoot out another line himself, covering his chest and face. soon the both collapsed, zander keeping his weight on his elbows to keep from hurting him. He saw Ashton smiling at him sleepily. Zander kissed his head "that was amazing baby." Ashton gave a grateful smile. zander got some wet paper towels from his bathroom and he cleaned up the cum off ashton's chest and face. he threw the paper towels away and curled up around him, covering them with blankets. both of them started to fall asleep, Ashton snuggled into Zander's chest. Zander kissed his head and purred. they soon were fast asleep after whispering 'I love you' to each other.
Similar topics
---
Permissions in this forum:
You
cannot
reply to topics in this forum